SELECTED PAST EXHIBITS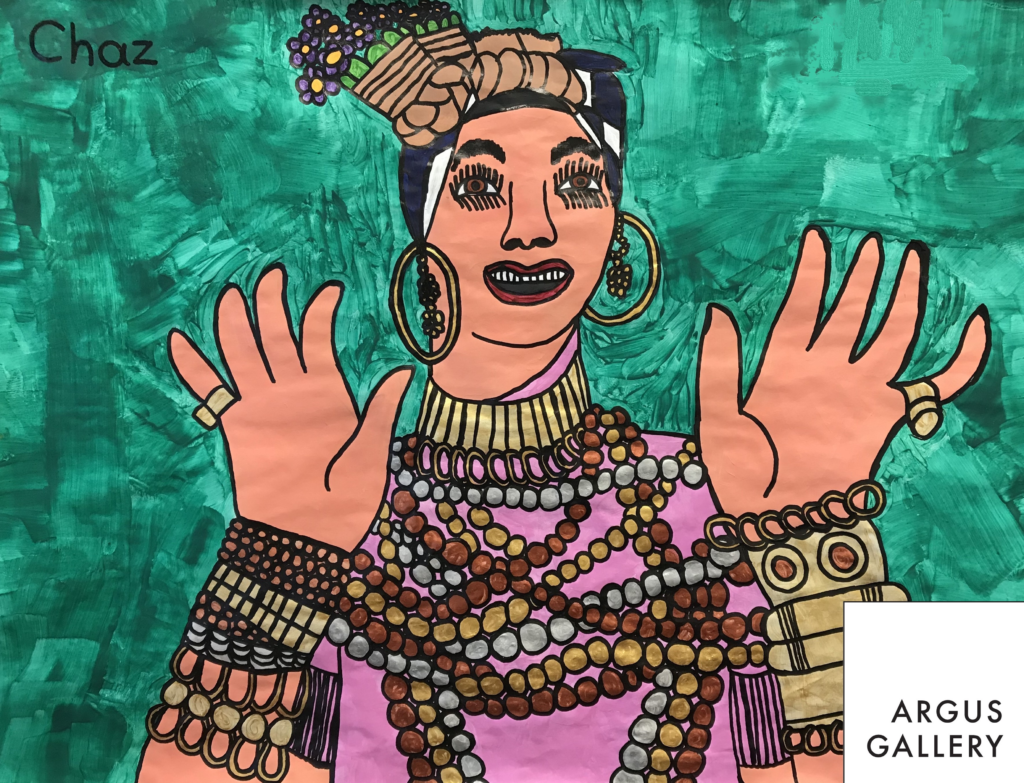 FEBRUARY 2019 Chaz Buscaglia: Recent Portraits at Argus Gallery Chaz Buscaglia's first solo exhibit featuring his painting series of re-styled pop icons and Golden Age Hollywood stars. Opening Reception February 1st, on view through February 22, 2019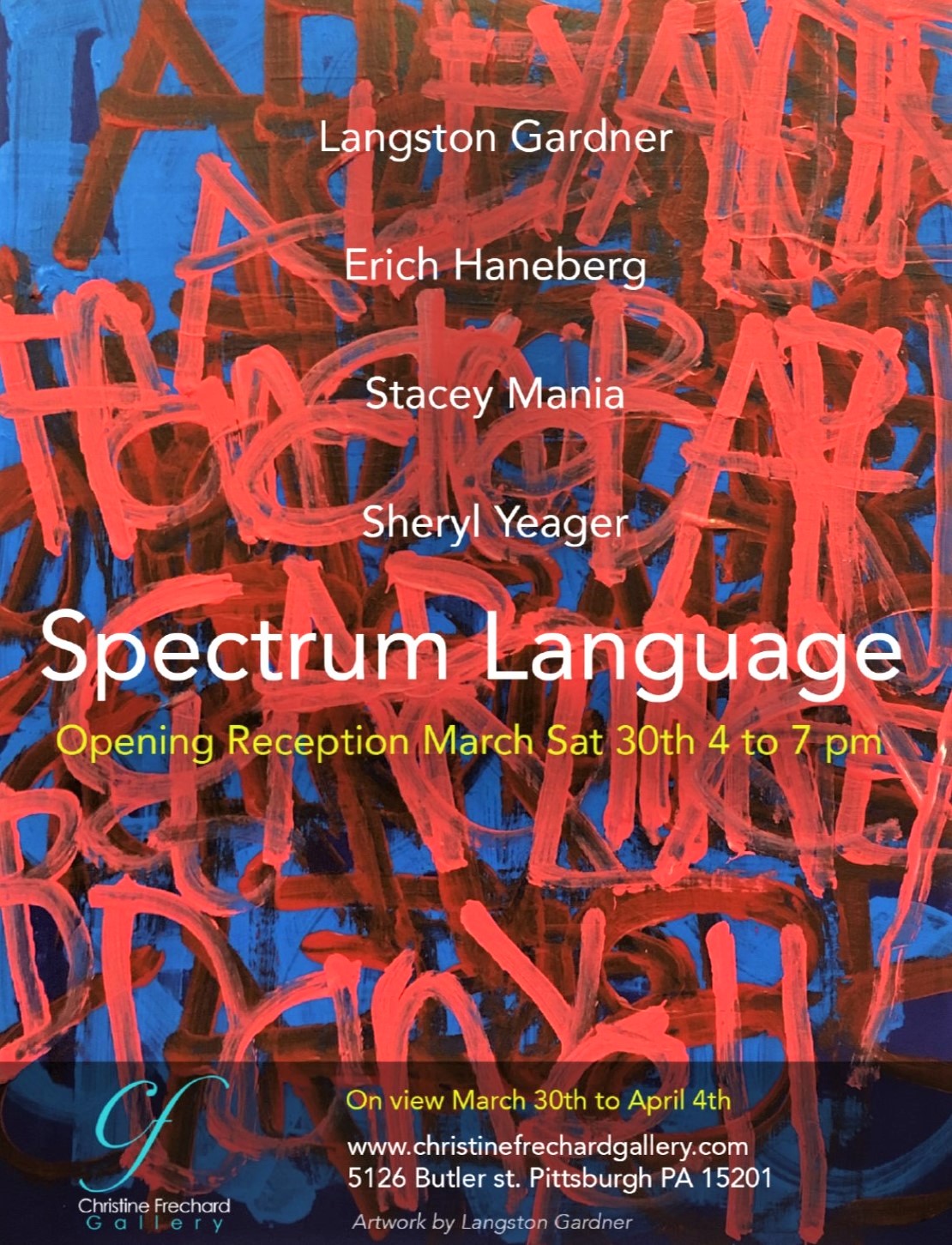 MARCH 2019 Spectrum Language at Christine Frechard Gallery Spectrum Language features four artists whose vital expressions of personally meaningful subjects invite the viewer to explore the very concept of language itself. We are pleased to collaborate with Christine Frechard Gallery, Pittsburgh, PA for our first out-of-state exhibit. ASI artists Langston Gardner, Erich Haneberg, and Stacey Mania. On view March 30 – April 4, 2019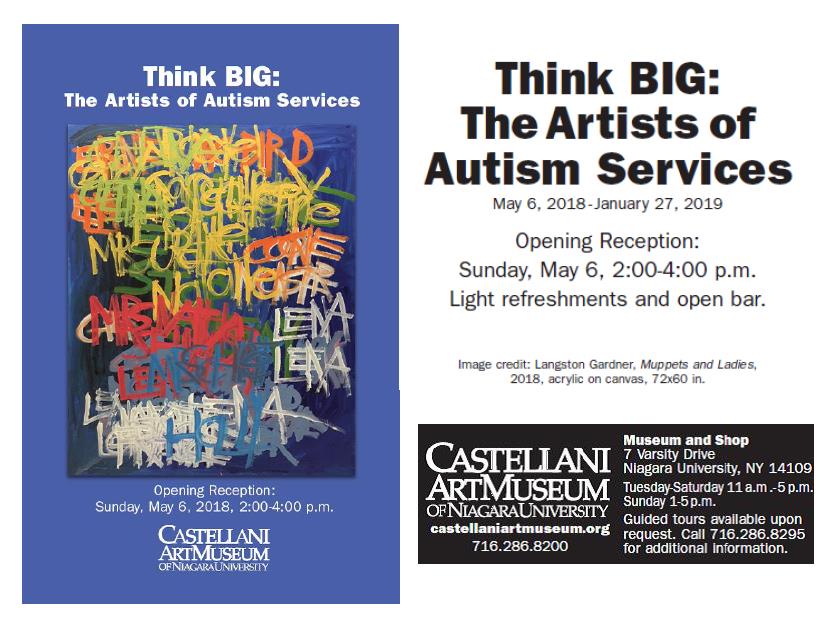 May 2018 – February 2019 Think BIG: The Artists of Autism Services at The Castellani Art Museum of Niagara University, Main Gallery An exhibit of large-scale work installed in the expansive Main Gallery of the Castellani Art Museum. ASI artists Dan Carey, Langston Gardner, Erich Haneberg, Kevin Krauss, James Marino, Daniel Maysonet, Courtney McGovern, and Brandon Scott. Opening Reception on Sunday, May 6, 2018 2:00-4:00pm. This exhibit will remain on view through 2018 through early 2019.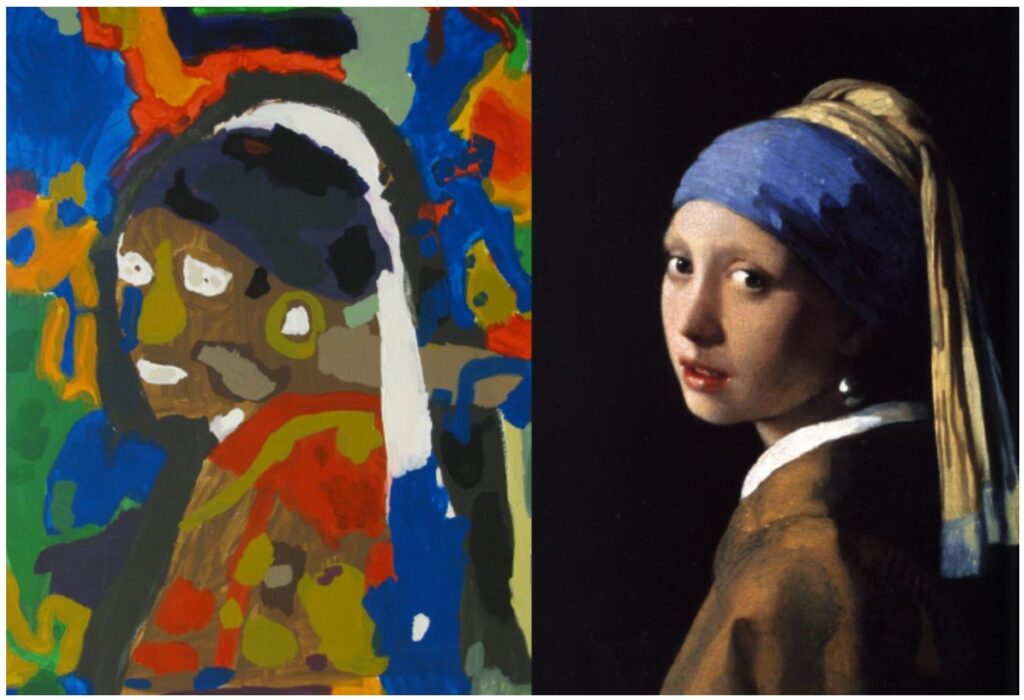 AUGUST 3, 2018 Benjamin Brauen, Jr. at Atrium 124 Gallery ASI artist Benjamin Brauen's first solo exhibition and retrospective selection of his paintings and drawings, from 2008-2018. Reception: Friday, August 3, 2018 5-7pm, Atrium 124 Gallery, 124 Elmwood Ave., Buffalo NY

AUGUST 11-18, 2018 Repetition at Big Orbit Project Space Work by ASI artists Dan Carey, Andy Chou, Erich Haneberg, Robert Lewis, John Overton-Burns, James Marino and Keith Minchen. Big Orbit Project Space, 30 Essex Street, Buffalo, NY 14213. Opening Reception Saturday, August 11, 2018 7-10 pmOn view through August 18, 2018.
September -November 2017 One Way Or Another at the University of Toledo Center for the Visual Arts Main Gallery One Way Or Another brings together artists from Autism Services in Western New York and Soul Studio in Michigan.
APRIL 2017 Throwback, at Horizons Gallery, WNED A selection of brand new work in remembrance of things past: classic cars, retro phones and plenty of nostalgic television. Reception with No Words Spoken performance. On view April 3-28.
APRIL 2017 Kristin Maggio: Awake at Atrium 124 Gallery We are thrilled to welcome young writer and artist Kristin Maggio back to the Atrium Gallery for her third solo show. Kristin's work reaches new depths of expression in this exploration of dual themes: nature's springtime awakening, and the magic of life within a nocturnal world. On view April 7-14.
APRIL 4-28 2016 American Music: Paintings Inspired by Jazz and Blues, at Horizons Gallery Opening Reception April 12 at 12pm, on view through April 28.
AUGUST-SEPTEMBER 2016 Kyle Butler and Langston Gardner at Arium 124 Gallery. August 21 through September 3, 2016
JUNE 23 – AUGUST 21 Burchfield Interpretations at Iprint Gallery ASI artist Bill Egan interprets the paintings of Charles Burchfield.
JUNE 19 – 26, 2015 Beaded Pockets at Atrium 124 Gallery Curated by Kathy Gaye Shiroki, visiting artist from the Burchfield Penney Art Center. Work by ASI and community artists from Kathy Shiroki's workshop inspired by Sonya Clark's Beaded Prayers Project. Opening Reception June 19, 2015 from 6-9 pm, on view through June 26.